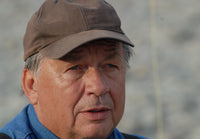 Göran Andersson
Göran Andersson has been fishing all his life. As a son of a rod maker and fisherman, he travelled Norway during the summer months in the pursuit of salmon, constantly searching for methods to improve his fishing. Since the gear of that time did not fit his notion he decided to improve it. Of course cutting his silk line in two parts (thus creating what we today know of as a shooting head) did provoke a heated discussion with his father but it did improve his fishing. Göran could now fish at spots he had not fished before. Since then Göran's inventive spirit has aroused more heated discussions around the fishing globe and he quickly became known for his unconventional methods. 
Göran was one of the founders of Loop Tackle and has now created his own brand, Göran Andersson Fly Fishing Design (GAFFD) in order to manufacture fly fishing gear without compromise.  But the best of all: Göran is happy to teach you his technique and show you how to cast. Equipped with tuned fly lines and Straight Line Action Rods you will, with some practice, be able to effortlessly perform the underhand cast. Just join one of his many casting clinics, salmon schools or even book a private lesson for yourself or your fishing club.
By the way, if you are looking for him, you will find him down at the river facing the stream, waiting for the right moment to cast. Or as Göran puts it: sit down, watch the river, let the fish come to you and then cast.
Göran Andersson Fly Fishing Design Collection
Straight Line Principle
All of Göran Andersson's inventions are based on one principle: the straight line. It is the basic principle for all casting.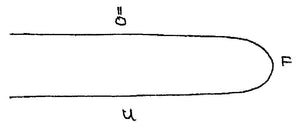 Göran Andersson Straight Line Action Fly Rods
The new generation of Straight Line Action Fly Rods are designed for versatile fishing and especially for fishermen searching for a modern rod with great capacities. With these rods and tuned fly lines you can even fish confined spaces and places you never fished before.  It is no secret, the SL-Action Rod has a unique tapering which is not found anywhere else. Together with tuned lines these rods are particularly suited for waterborne casts. When casting the whole blank is performing from top to bottom. Compared to other rods this is already possible with a very short stroke. A short stroke needs less space.
The GAFFD SL-Action rods and their sensitive tips serve the fly line completely straight and with almost no vibration when performed with a correct casting technique. Like an arrow with one direction both lines shoot to the target. When shooting a fly line where the upper and lower line are moving on a parallel trajectory toward the target means that 100% of the line weight is moving towards the target. To gain more effectiveness than this is not possible. Moreover, since the lower line (u) moves straight, the fisherman has a direct physical contact to the line and therefore the fly. In other words, he can control his cast. 
To load a progressive rod, you need a longer stroke and hence a longer dragline. A long dragline together with a tip action rod creates a crooked line loop.  This means that the line weight is moving towards different directions and is therefore less effective, making it difficult to aim the cast.